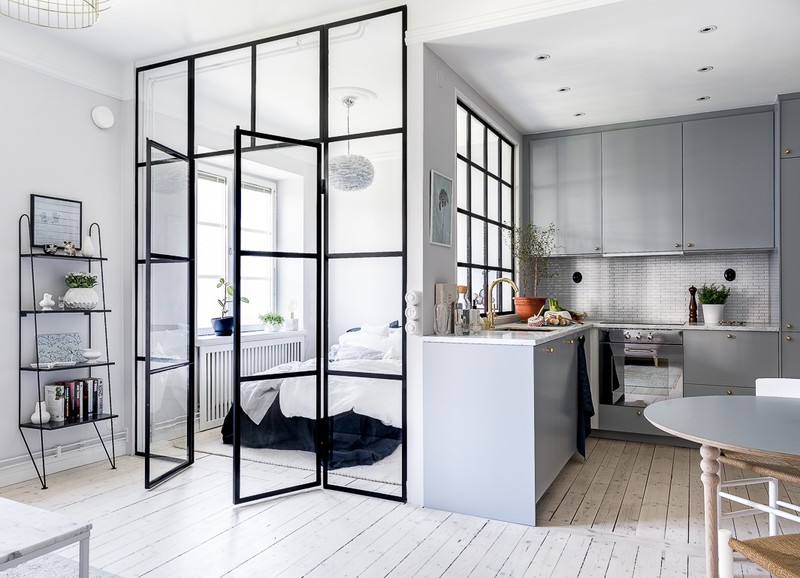 A How-To Guide On Downsizing
We've all been there, a time in our lives where one can't escape the inevitable: downsizing your living quarters. Whether you're moving from your parental home to uni campus, or from the countryside to a miniature city dwelling, going smaller can be tricky. That's why we've listed some handy tips & tricks to make the transition easier and clutter free!

An Organised Wardrobe
First on the list, time to sort out your sartorial choices. By having an organised wardrobe, you do not only save time in the morning, but you get a better overview of what you do and don't wear. Separate your summer and winter wardrobe and keep either of them in storage if it's not the season.


Source: Elle Sweden
Open shelving unit
Open shelving is intimidating, it must be curated and you are essentially putting your personality on display. But it also helps in defining which bits and bobs you need in your house, and what can be thrown out or sold at a flea market. Plus, it eliminates the worry of deciding which art to put on the wall!


Source: Trendy Mood
Store utensils vertically
With a small space, often comes a small kitchen. And as kitchen cupboards and drawers are usually filled to the brim, think about storing your utensils differently. Attach racks and hooks to the walls to hang pans, spatulas etc. and perhaps store your big pans in the oven. Sorry, nobody said it was easy...


Source: House Beautiful
Divide Your Room
If you've got a studio apartment, it can be confusing when you're sleeping in your kitchen and bedroom at the same time. A room divider can bring structure into your space and close off the things you'd like to keep a bit more private. Try a wall on wheels, a triptych, a curtain or a large wooden board.


Source: Birch + Bird
Our favourites:
more...